Five Snack Foods We Love To Hate
Posted:
06.23.2010

Comments: --
Remember in Splice, when those two ballsy scientists defied logic and spliced together genes from two different species, spawning a freaky, hybrid creature that looked like a bald Chuckie? Yeah, we didn't see that movie either.
But according to imdb.com, the moral had something to do with not messing around with mother nature, and when it comes to snack foods, we think the same mantra applies. We're not health nuts or anything, but these gluttonous, artificially flavored, chemically engineered snackables are just plain nasty—no matter what we said at 3 a.m. Saturday morning.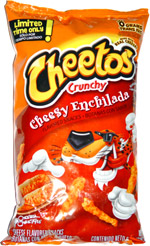 1. Cheesy Enchilada Cheetos
How can you pack the spicy, beefy taste of real enchiladas into a tiny orange cheese curl? You can't.
2. Fruit Roll Ups Tongue Tattoos
Because that's exactly what kids need – another medium for saliva.
3. Bacon, Egg & Cheese Combos
We bet the CEO of Kibbles 'n Bits is pissed he didn't think of this first.
4. KFC Double Down Sandwich
This deep-fried delight packages bacon and melted cheese neatly between two breaded chicken fillets. In other news, have you heard about this obesity crisis thing?
5. Wye River's Crab Seasoned Popcorn
Just like Snooki, this microwave-friendly favorite went down the shore and came back with crabs. We'll fist pump to that.