"I'll prove how much I love you with this handstand."–Records Under The Radar
Posted:
09.23.2010

Comments: 2
Moonface is yet another brainchild of the prolific Spencer Krug.  One half of indie stalwarts Wolf Parade, driving force behind Sunset Rubdown, and one third of Canadian "supergroup" Swan Lake, Krug has a seemingly endless creative well from which to draw.  Dreamland EP: marimba and shit-drums, his first release under the Moonface moniker, adds yet another fascinating piece to his legacy.
This cryptic project, quietly released through a dedicated website in January of 2010, is comprised of one sprawling, 20 minute track, consisting soley of Krug's vocals and, yes, marimba and "shit-drums" (so-called because of their fidelity).  Appropriately, the lyrics to the song are surreal and dreamlike, conjuring images of  specters passing through walls and guitars made of glass.
The general narrative of Krug's Dreamland is one in which he travels to a dark beach, alternately drawn to and menaced by the water:
I venture into a dreamland where the waves have come alive
& I watch them chase the people down the beach
But they are bound to the water
Like creatures on a leash
Krug (or his narrator) wanders through this mysterious terrain, transforming into a chameleon, then into a "moon-faced flower child."  Everything is black and cold, and this land's inhabitants are "animals that scatter from the sun."
The first third of the EP is a hypnotic blend of marimba tones; simple phrases of notes are multi-tracked, slightly out of sync, to induce a sort of "phase," to reference the method made famous by Steve Reich.  As the song gains momentum, however, solo lines of marimba break free from this back, and little rills of higher-end notes accompany Krug's keening, wordless background vocals. Then, at around the 9 minute mark, the drums come in.  The drumming is a dusty drum machine blend of cymbals and floor toms, popping up here and there to emphasize the more bizarre visions of which Krug sings.  The final minutes of the record bring all elements together: as the drums build in speed and aggression, the marimbas pick up a shrill intensity before dropping away altogether, leaving only a simple drum beat and Krug repeatedly intoning, "I am making hissing sounds with my mouth."
The primary themes here are those of darkness and transformation–also fairly literal and apt descriptions of the dreaming process itself.  This seems only appropriate, as Dreamland was, it seems, completely inspired by and drawn from Krug's dream journal, kept from January to April 2009.  A selection of these dream accounts can be read on the Moonface website, where the full EP is available through download, via a donation-based system.
Excerpt: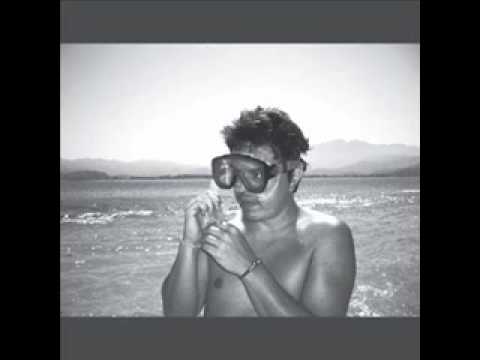 2 Responses to ""I'll prove how much I love you with this handstand."–Records Under The Radar"